Regular price
Sale price
$24.00 USD
Unit price
per
Sale
Sold out
ORGANIC CLOVE AND COCONUT WHOLE BODY SOAP 
A whole body cleanser that is naturally anti-bacterial and hydrating while preventing sun damage, skin irritation, and redness. Its wonderful spice-forward clove scent makes it a great cleanser for both men and women.

Comes as a set of two bars of soap nestled in a canvas drawstring bag.

How to use:
Simply moisten your skin and the soap bar. Gently rub the bar over the areas you wish to cleanse. Work up a rich, soothing lather for a moment, then rinse off completely with warm water. Prolong the lifespan of your soap by storing it in a cool, dry place after use.


Ingredients: Cocus Nucifera (Coconut) Milk*, Theobroma Cacao (Cocoa) Seed Butter*, Olea Europaea (Olive) Oil, Hordeum Vulgate (Barley Grass)*, Triticium Aestivum (Wheat Grass)*, Lavandula Augustifolia (Lavender) Oil*, Syzygium Aromaticum (Clove) Oil* *indicates certified organic

Free Shipping Over $99

All orders ship within 24-48 hours.

We'll pick between a few different methods to make sure it gets to you quickly as possible.
View full details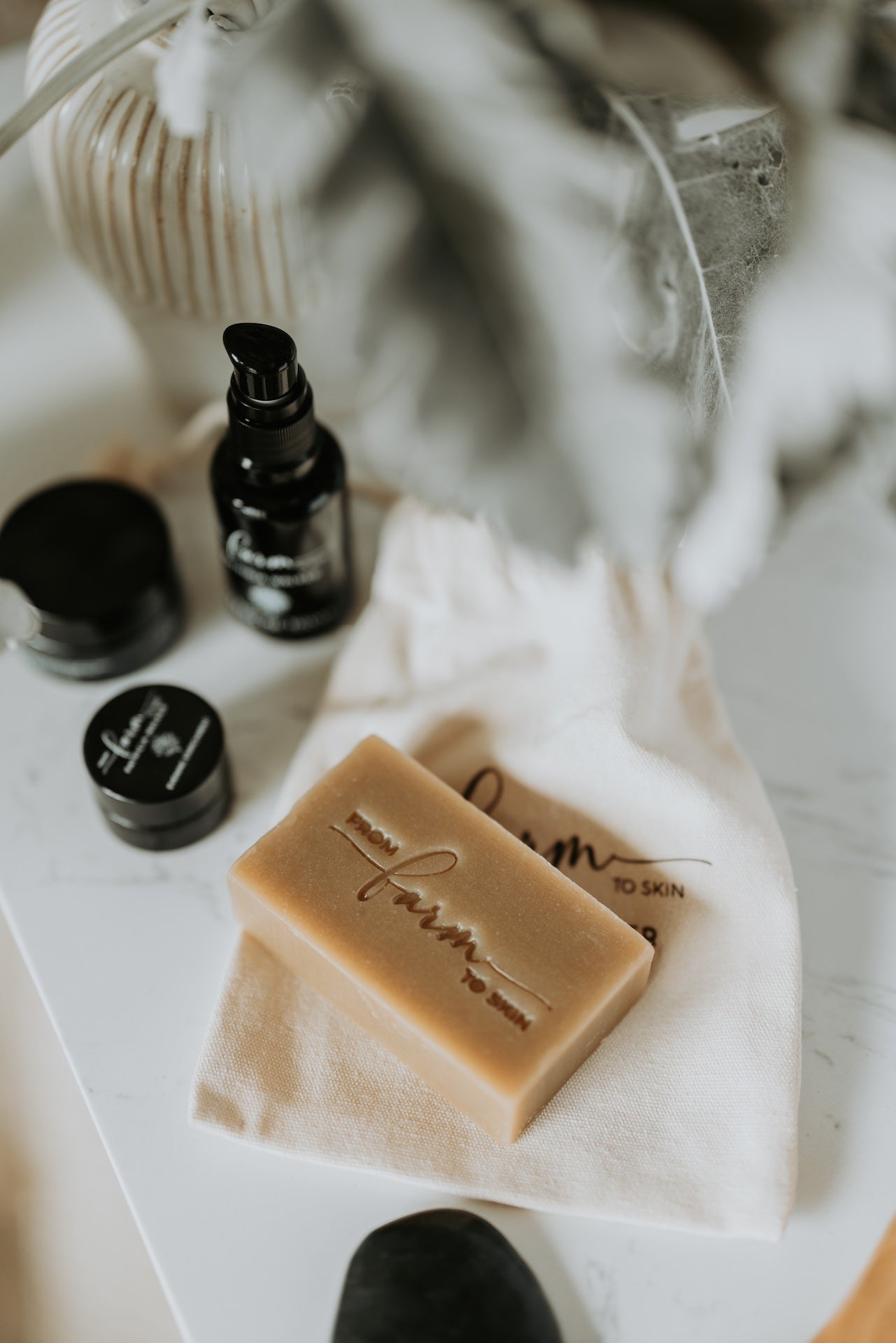 Product Info
Plant Performers

Certified Organic Coconut Milk:
Coconut milk, rich in vitamins and fatty acids, is renowned for its exceptional hydrating properties. It nourishes the skin deeply and combats dryness.

Certified Organic Cocoa Seed Butter:
Cocoa Seed Butter is a potent moisturizer, loaded with antioxidants and essential fatty acids. Its ability to lock in moisture and soothe inflamed skin makes it a go-to for conditions like eczema and dermatitis.

Certified Organic Clove Oil:
Clove oil, with its distinct aroma, is more than just a fragrant touch. It helps fight acne with its antiseptic properties, helping to maintain clear, blemish-free skin.

How To Use

Simply moisten your skin and the soap bar. Gently rub the bar over the areas you wish to cleanse. Work up a rich, soothing lather for a moment, then rinse off completely with warm water. Prolong the lifespan of your soap by storing it in a cool, dry place after use.


Ingredients

Ingredients: Cocus Nucifera (Coconut) Milk*, Theobroma Cacao (Cocoa) Seed Butter*, Olea Europaea (Olive) Oil, Hordeum Vulgate (Barley Grass)*, Triticium Aestivum (Wheat Grass)*, Lavandula Augustifolia (Lavender) Oil*, Syzygium Aromaticum (Clove) Oil* *indicates certified organic
Healthy Skin Shouldn't Be Complicated
Hand Harvesteted Ingredients

We partner with farmers who only use fresh plant material, providing the most potent ingredients available.

Soulful Skincare

We select ingredients with intention. Every ingredient is free of toxins and parabens. Ditch the synthetic ingredients that do more harm than good!

Made in the USA

We formulate and bottle our products in the USA using the highest quality ingredients.