Regular price
Sale price
$24.00 USD
Unit price
per
Sale
Sold out
The Farm to Skin Dry Brush is 100% vegan. Made with a bamboo handle and sisal brushes, our Dry Brush was designed to fit comfortably in your hand and give the perfect dose of firmness for maximum benefits.

Dry Brush Benefits:
The practice of dry brushing has been used for centuries and has a multitude of benefits. Dry brushing gently exfoliates and removes dead skin, which increases circulation, naturally detoxifies, and can lead to increased collagen production. Because dry brushing stimulates your nervous system, it can lead to an increase in energy. Dry brushing stimulates your skin's ability to repair itself naturally, leaving you with a radiant glow and smooth, soft skin.

How to use: 
Start by using the Farm to Skin Dry Brush at the feet or ankles and work upward, brushing towards your heart in long, smooth strokes. Next, move the brush in a circular motion or upward motion towards the heart on your torso and back. For your arms, start on the back of the hands and work upward towards your shoulders. Use only as much pressure as you are comfortable with. Go over each area 2 or 3 times, spending a little more time at joints. The entire process should take only 2 to 3 minutes. For maximum benefits, we recommend dry brushing in the morning followed by a shower and your favorite whole body oil. However, making this part of your evening routine provides plenty of benefits as well. Enjoy these few minutes of calmness and self-care.

*Every Dry Brush comes with a canvas bag and instruction card.


Free Shipping Over $99

All orders ship within 24-48 hours.

We'll pick between a few different methods to make sure it gets to you quickly as possible.
View full details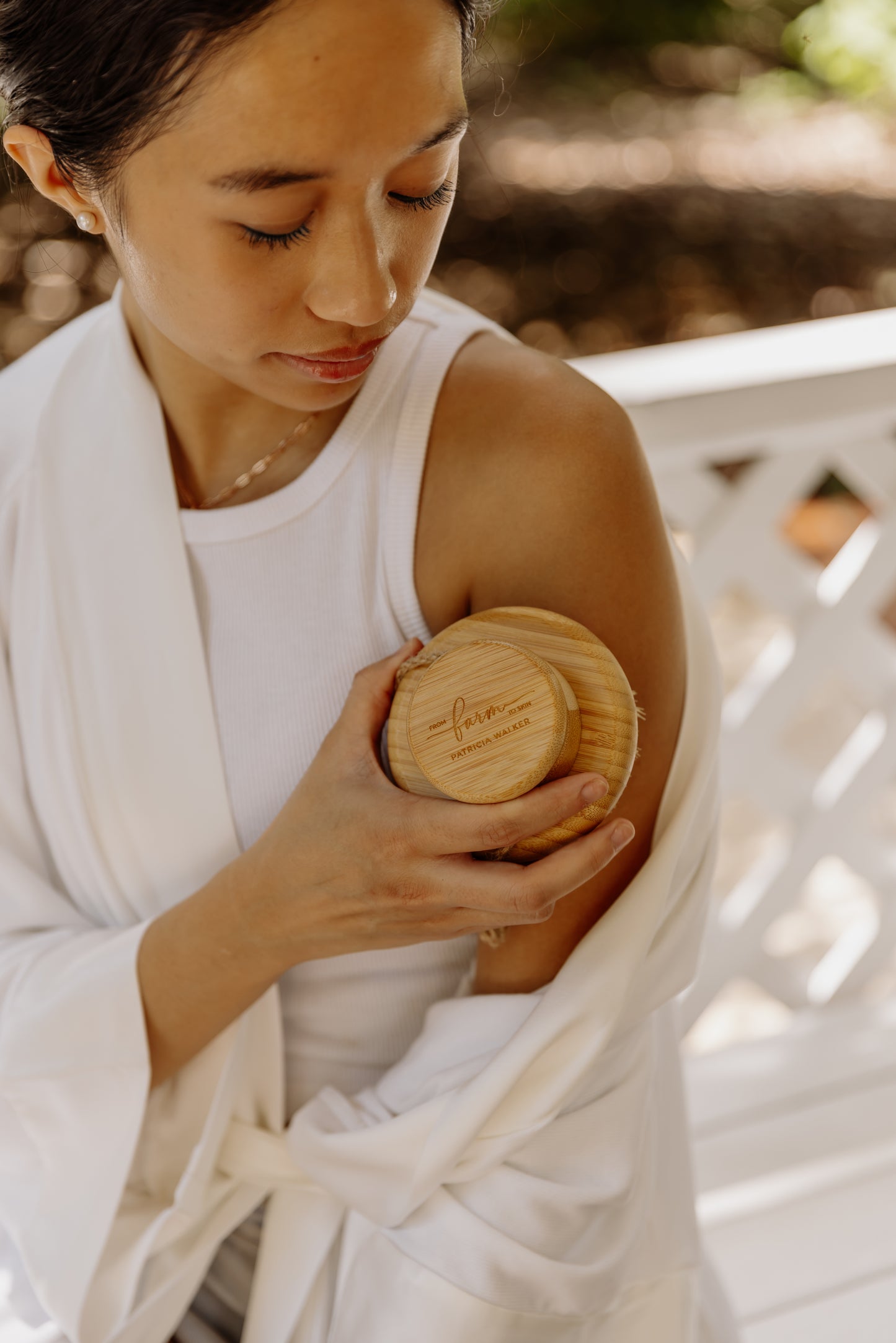 Healthy Skin Shouldn't Be Complicated
Hand Harvesteted Ingredients

We partner with farmers who only use fresh plant material, providing the most potent ingredients available.

Natural Skincare

We select ingredients with intention. Every ingredient is free of toxins and parabens. Ditch the synthetic ingredients that do more harm than good!

Made in the USA

We formulate and bottle our products in the USA using the highest quality ingredients.